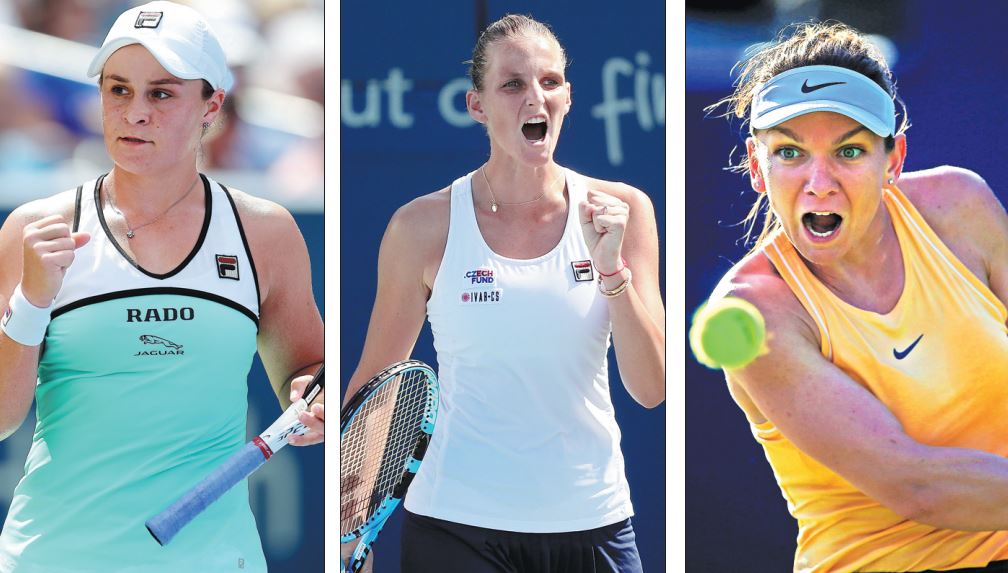 Grand Slam champions Barty and Halep headline starry lineup that features eight of world's top 10
Simona Halep and Ashleigh Barty head another star-studded lineup as the Wuhan Open returns for its sixth edition from Sept 22-28 in Hubei province.
The prestigious WTA Premier 5 event will feature 17 of the world's top 20 players, including eight of the top 10.
Reigning Wimbledon and French Open champions Halep and Barty top the bill, while fan favorite Petra Kvitova will also make a welcome return to a tournament she has won twice.
"I'm really looking forward to returning to the Wuhan Open for the sixth time," said world No 4 Halep, who has competed every year since the tournament's inception in 2014.
"Every time we go back the site has gotten bigger and better and the tournament always takes special care of us, so I can't wait to again play in front of the great fans there."
Fresh from her Rogers Cup triumph in Toronto, Canadian sensation Bianca Andreescu heads a list of exciting young breakout stars in the field, including Roland Garros runner-up Marketa Vondrousova of the Czech Republic and rising American pair Amanda Anisimova and Sofia Kenin.
This year's purse totals $2.8 million, with the singles winner pocketing $520,615.
The 900 ranking points on offer for the champion also makes Wuhan pivotal for those trying to seal a spot in the year-end WTA Finals in Shenzhen.
The tournament boasts some of the most impressive facilities of any WTA Tour event, including a celebrated 15,000-seat main stadium-complete with sliding roof-and 5,000-seat No 1 Court.
The state-of-the-art Optics Valley Tennis Center has 26 courts, an area called Carnival Square designed for fan-focused family fun, and an adjacent shopping center.
"We're thrilled with this year's entry list and proud to host such a fantastic showcase of so many of the world's best and most incredibly talented female athletes," said Brenda Perry, tournament co-director of the Wuhan Open.
"With over half the field already having won a title in 2019, it's going to make for some really compelling and fierce encounters every day. It is an amazing opportunity to see the best in the world."
Wuhan is the birthplace of tennis Hall of Famer Li Na, now an ambassador for her hometown tournament.
Last year Li hit shots with Elina Svitolina on a floating court on Wuhan's East Lake as a novel way to promote the event. It remains to be seen what Asia's first major singles champion has in store for fans this year.
Since Li's retirement in 2014, fans have been longing for a new Chinese superstar to emerge.
Leading the domestic charge are world No 17 Wang Qiang, world No 34 Zhang Shuai, who reached the Wimbledon quarterfinals this summer, and Zheng Saisai, who hit a career-high ranking of 39 by winning this month's Silicon Valley Classic in San Jose, California.
The trio will carry China's hopes at the Open.
"I'm very excited to come back to Wuhan. Playing in front of my home crowd is an amazing experience and I know it will be a wonderful atmosphere," said Wang.
"Li Na is an inspiration to all of us and to play in her home city is a great experience. I am really looking forward to this year's matches."
Organizers are proud of the tournament's role in developing Chinese tennis.
"It's wonderful to welcome so many of the world's best players to Wuhan and to celebrate our city by hosting the very best from around the world as well as successful homegrown players such as Wang Qiang, Zhang Shuai and Zheng Saisai," said tournament co-director Li Qiuping.
"The Wuhan Open will continue to grow bigger and better every year.
"We're working very hard to help create a new generation of tennis players here, inspired by seeing so many amazing matches at this tournament."