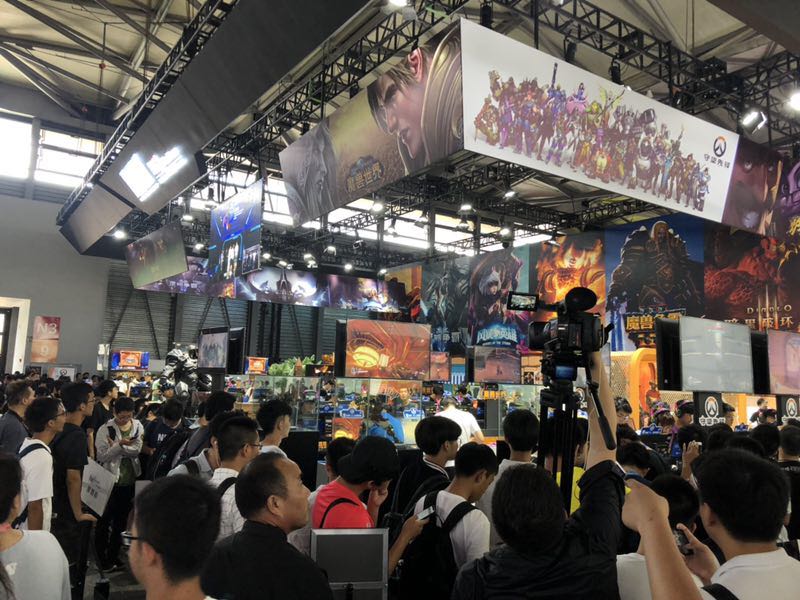 Visitors to Qualcomm's pavilion at the recent China Digital Entertainment Expo and Conference in Shanghai got a glimpse of how the 5G networks could transform the Chinese gaming industry.
US tech company Qualcomm, which teamed up with eight major partners, including Xiaomi, Vivo, Oppo and Tencent, showcased nearly 40 types of games and entertainment on various platforms, including cellphones, computers, as well as virtual reality and augmented reality devices, at its 12,000-square-meter pavilion.
Backed by 5G connection from China Telecom and ZTE, Qualcomm managed to attract more than 250,000 visitors during the four-day event, which is better known as China Joy. The total attendance at the show was 364,701.
According to Sun Gang, global vice-president of Qualcomm, the extremely low latency, or lower time delay, in 5G networks will enable players to enjoy large games with a high resolution. It will spare them the trouble of downloading or installing a game since cloud gaming will be possible.
Traditionally, a game is played on a console or computer. In the case of cloud gaming, the game runs on a server owned by a gaming service.
A 5G connection will make a huge difference to the VR and AR devices, which can be attributed to low time delay, said Sun.
A large number of VR gamers complain of dizziness when they switch from virtual to the real environment. Such problems can be solved with the help of 5G, said Sun.
Some users complain that non-game players are not so competitive, making the games less interesting. Such problems can be solved by integrating 5G and artificial intelligence, said Sun. "The machines will pick up new skills and grow stronger instantly."
Wang Dongfeng, chief executive officer of Forgame Holdings Limited, a company engaged in the development and publishing of domestic and overseas online games, said that the 5G network will facilitate rapid development of the VR industry.