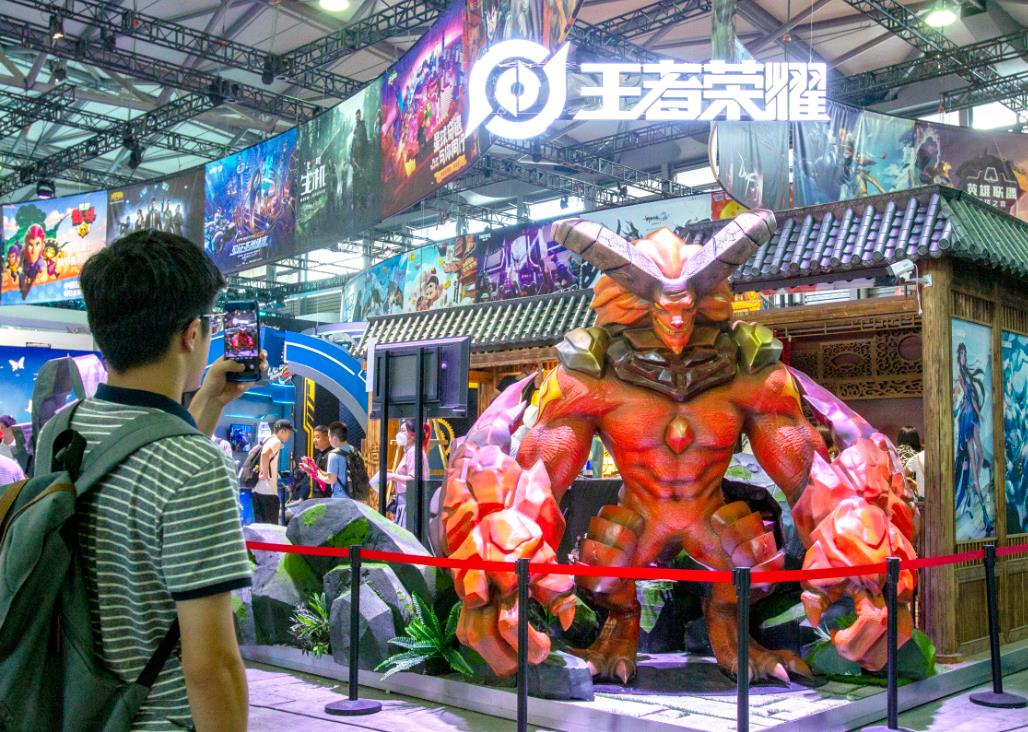 Enthusiasm for new game titles to keep company in pink of health, say experts
Enthusiasm for new game titles and the development of industrial software are the key factors that will determine the future financial health of tech giant Tencent Holdings Ltd following the release of the company's second quarter earnings.
Shares of the Hong Kong-listed fell 2.82 percent, or HK$9.6 ($1.22), to settle on Thursday at HK$330.4, after it reported its core gaming business rebounded in the three months ending in June.
Net profit jumped 35 percent year-on-year to 24.14 billion yuan ($3.4 billion) in the three months to June, while revenue rose 21 percent to 88.8 billion yuan in the same period.
The company experienced a slowdown in the online advertising sector. The segment accounts for 18 percent of Tencent's overall revenue.
"Our assumption is that the macro environment will remain difficult for the rest of the year and that the situation of the heavy supply of advertising inventory will continue for the rest of the year and potentially into next year," Tencent Chief Strategy Officer James Mitchell said in an earnings call late on Wednesday.
Tencent came out of an extended regulatory freeze in new games as it rode Peacekeeper Elite and other titles like Honor of Kings to reignite growth in a business that contributed 30 percent of its revenue. The company said it released 10 games in the second quarter.
"Although we thought our recently revised estimates would be low enough, second quarter of 2019 topline growth once again missed both our and the Street's expectations," said Alicia Yap, an analyst of Citigroup Global Markets Asia, which maintained a Buy Rating on Tencent shares after the results were published.
"We expect gaming revenue to re-accelerate starting from the second quarter onward," David Dai, a Hong Kong-based analyst at research and brokerage firm Bernstein, told Bloomberg News, adding this would also drive a surge in overall revenues.
Tencent's performance is actually in line with the bigger picture for other digital outfits.
Digital ad spending in the world's second-largest economy is expected to hit $79.82 billion in 2019, growing 22 percent from the year before, said eMarketer. But the figure represents a reduction from the 28 percent growth seen last year.
The slower growth in economy combined with the prolific ad inventory at rival Bytedance will weigh on marketing demand and ads, said a research note from Citic Securities.
"But given Tencent's abundant share in online traffic (over 40 percent) and relatively low monetization rate of the ad business in China, the current stalemate wouldn't last too long," the Citic report said.
On a positive note, the new revenue category of "FinTech and Business Services" set up this year that includes payment and cloud services churned out 22.9 billion yuan, up 37 percent on comparable business last year. The sector was fueled by rapid growth in commercial payment volumes.
"We have learned from our industry contacts that Tencent's WeChat Pay has enhanced efforts to improve profitability by phasing out/reducing subsidies," Nomura Securities said in its own research note.
Citi's Yap said they will seek more data on the company's monetization of games, the timing of online ad recovery, fintech production traction, and progress in industrial internet and software development.