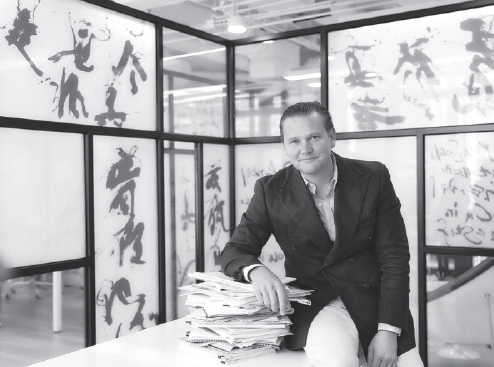 A Swedish entrepreneur is working on a Chinese project that aims to achieve green development, Chen Yingqun reports.
All the walls of Jesper Jos Olsson's Beijing office are decorated with Chinese calligraphy, lively and vigorous characters that were spontaneously written by a group of young artists.
Fourteen years after moving to China, the 45-year-old entrepreneur from Sweden sees his life as inseparable from the country.
The connection, as he sees it, will continue for decades, as he is committed to participating in China's green and sustainable development, as well as its urbanization.
"China is clearly committed to being a leader in sustainability. Across industries, people understand that sustainable, green development is critical for the long-term success of China's urbanization over the next few decades," he says.
Olsson shot to fame in Sweden after he founded Icon Medialab International, an internet company that went public in Europe, when he was 23 years old.
He started traveling to China around 2000 and was fascinated by its diversity and dynamism.
In 2005, he moved to China, "a totally new area of the world" to him then.
And it was the smaller cities rather than the first-tier cities that attracted him the most, as he was impressed by the rapid growth there.
In 2007, he founded White Peak, a large European residential real estate developer in China, as he saw increasing demand from smaller cities for green buildings and sustainable solutions.
"The Chinese are paying increasing attention to the safety and quality of their living environment, including clean air and water, and green construction materials," he says.
"Sweden has decades of experience in sustainable development. And I think we can apply that knowledge to China's urbanization."
He even persuaded the Swedish pension funds to invest in White Peak, as it provides the fund "exposure to urbanization and quick growth in China's economy".
In China, White Peak builds around 8,000 apartments a year, more than half of the total houses sold in Sweden annually, he says.
A key project that White Peak is working on is the Yantai Hammarby Eco City, a 4.6-square-kilometer project that sits in the center of Shandong province's coastal city of Yantai. It is a unique Swedish-style community based on Stockholm's Hammarby Sjostad, considered one of the world's best eco cities.
Builders and companies working on this project launched the China-Sweden Hammarby Eco City Alliance on May 28, committing to building a "signature smart ecocity" in Yantai.
Jonas Tornblom, White Peak's chief representative in Sweden, who has been involved in the development of Hammarby Sjostad since 2000, says some of the area's key environmental features are that all resources there should be reused or recycled, and closing the loop and its underground waste transportation system has reduced the number of heavy waste collection trucks in the Swedish district by over 80 percent.
Olsson says he expects the eco city in Yantai to become a national smart-city pilot project, and an ideal platform to contribute Swedish expertise and ideas to China's future development.
He says building an ecological community is about much more than the color of the buildings or the technology employed-the real measure of success is performance against the social and environmental key performance indicators.
He says urbanization often leads to increased social isolation, and also gives rise to other problems such as pollution.
"When creating a community we focus on the social aspects of design, creating shared spaces for neighbors to interact and socialize. And we also integrate digital platforms into the community to strengthen relationships among residents," he says, adding that they would also use technologies to ensure that the buildings follow ecological principles, such as less energy consumption and less waste.
"It is about much more than just green building standards," he says.
Sweco International AB is responsible for the planning and design of the Yantai Hammarby Eco City.
Anna Hessle, head of International Affairs of Sweco International AB, says the Yantai project will be "a dynamic hi-tech innovation loop underpinned by a mixed, sustainable urban community".
Olsson says innovation should also be made in rental housing in big cities, where many young people cannot afford to own apartments. There is a great opportunity to make apartments more comfortable and green, better utilize space and leverage technology to improve management.
"Today's younger generations are very different from their parents," he says.
"Young people prefer living in urban locations. They don't like to cook every day, and are incredibly open to any kind of shared economy."
Moreover, the young care more about sustainability and want to make sure that building construction materials do not pose any health risks and the air is clean.
Olsson says in China he likes the energy, and speed is the most attractive part for him.
"The Chinese are entrepreneurial risk-takers, yet always very friendly and cordial. Their natural curiosity leads to a love of travel, and an amazing interest in everything the world has to offer," he adds.