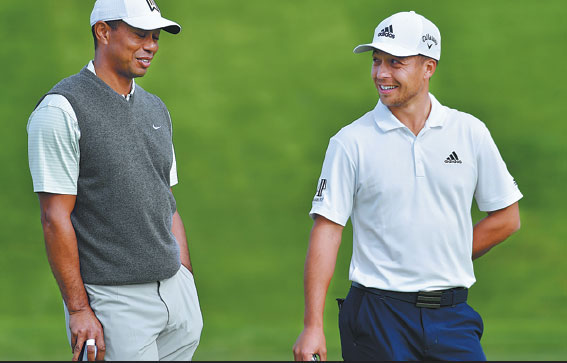 For all the early success that Xander Schauffele has achieved in his burgeoning career, the 25-year-old American has kept his feet firmly on the ground and his hands on the same old steering wheel of a Japanese car.
Schauffele, who is of mixed Asian and German heritage, is among a new breed of golfers gatecrashing the game's upper echelons.
Three of his four PGA Tour titles were against stacked fields at the Tour Championship in Atlanta, Sentry Tournament of Champions in Hawaii and World Golf Championships-HSBC Champions in Shanghai, a title he will defend in October.
Throw in three top-3 finishes at six recent majors, plus a career-high second-place finish in the FedExCup, the San Diego resident has shown he truly belongs in the elite club of golfers.
With nearly $14 million in prize money accumulated since his breakout season in 2017, Schauffele shuns the limelight to focus on his golf and family life.
And unlike other sports stars who reward themselves with fancy cars, he has kept his faithful old Japanese automobile in his garage.
"It reminds me of my roots," said Schauffele. "I had it when I was on the Web.com Tour (now the Korn Ferry Tour) and I have not gotten around to getting a nicer car. I bought it for 13 grand, so I figured that's a smart move. I know I'll have a nicer car in the future but for now, it seems to be working."
What has worked particularly well for Schauffele is an in-built work ethic, discipline and determination – all of which epitomize his family's cultural heritage.
His father, Stefan, is a German-French immigrant who had aspired to be an Olympic decathlete before a car accident shattered his dreams.
The name Schauffele literally translates to "man with a small shovel" and Xander has shown he is not afraid of hard work to get to the top of the hill.
Mother, Ping Yi, was born in Chinese Taipei, grew up in Japan and met Stefan during college in the US. According to Xander, she provides the stability in the family which includes older brother Nico.
"Dad is a disciplinarian," said Schauffele, who is part of the Tiger Woods-led United States Team that will compete in the Presidents Cup in Australia in December.
"He showed me that hard work is the ultimate key. If you want to do anything, you have to work your ass off. Mum is the calming influence."
As a child, Schauffele's first sporting involvement was soccer before Stefan taught his youngest son how to play golf when he was 9.
He developed into a decent amateur golfer before turning professional in 2015 where he earned a card for the Korn Ferry Tour, the pathway to the PGA Tour.
Schauffele is renowned for his driving length off the tee, but it's with his brains that he often out-duels opponents.
"I always felt like I was mentally tougher than the others," he said. "I was never one who was noticed as I wasn't winning a whole lot. I was kind of solid.
"Getting onto the Web.com Tour was a big confidence booster and once I won the Greenbrier in 2017 (his first PGA Tour win), I knew I was good enough to be out here."
His four career victories have all been come-from-behind affairs.
When he won the WGC-HSBC Champions, he came from three back to beat Tony Finau in a playoff, and in Hawaii he shot a final-round 62 to overturn a five-shot deficit.
"The playoff with Tony, that was the biggest memory. Just the excitement of being in a playoff, the fans, and the celebration was incredible on the 18th green," he said.
"You work at your craft and winning is the ultimate prize. Winning from behind is interesting. It fits my character, fits my junior career, my college career, even my early pro career. I've always come from behind and somehow I've always been comfortable in that position.
"I still feel like an underdog although mentally, it's slowly changing. I'm top 10 in the world because I've stacked up some good events recently.
"This is all still new to me, there are so many big names out there. I don't think my name, even personally, is there yet, you know I don't think I've done enough yet to be considered a top dog."
Chinese fans will be seeing plenty of Schauffele soon. He has committed to his title defense at the WGCHSBC Champions (Oct 25-28) in Shanghai. Before that, he is due to play The CJ Cup @ Nine Bridges in South Korea and the ZoZo Championship in Japan.
The writer is senior director of communications for the PGA Tour and is based in Kuala Lumpur.