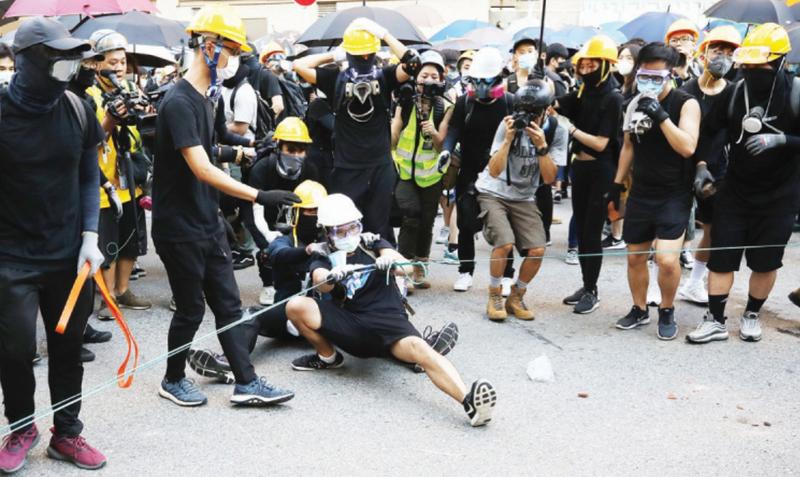 DAB chief warns against glorifying violence to avoid pushing HK into 'irrecoverable' position
Starry Lee Wai-king, chairwoman of the biggest political party in the city – the Democratic Alliance for the Betterment and Progress of Hong Kong – has strongly condemned the violent and unlawful demonstrations at the airport, during which protesters illegally detained and assaulted two mainland visitors on Tuesday, including a reporter.
She said the most important thing now is for society to restore law and order. She denounced the use of violence, saying that the protesters against the now-suspended extradition bill have deviated from what they originally advocated as peaceful demonstrations. In her opinion, the protesters' primary demand has been met because the bill is now virtually "dead".
Angry about airport demonstrations
"We are very angry about the demonstrations at the airport, with protesters blocking passengers, local people and foreign tourists alike, from going through immigration checks to board flights, and causing cancellation of nearly 1,000 flights on Monday and Tuesday," Lee told China Daily in an exclusive interview.
"The airport is visitors' first impression about Hong Kong. Such violent demonstrations affected them badly and generated very negative impacts on Hong Kong. We have also received numerous calls for assistance from disgruntled local residents. They complained that the protesters should not cause disturbance to others, even though they are not happy with the government and the police force.
"They have the right to pursue democracy in a peaceful and rational manner, yet they did it in an extreme and undemocratic way."
It was right for the Airport Authority to apply for an injunction order to ban demonstrations at the airport. "The application for injunction came a bit late, but it is better late than never. Knowing that the protesters had held demonstrations at the airport for several days, the Airport Authority should have applied for an injunction earlier and foreseen that the demonstrations would heat up," she commented.
Dangerous to condone and glorify violence
She observed that society and community leaders have become more tolerant of violence as opposed to the illegal "Occupy Central" movement in 2014 because they sympathize with the young people. But she cautioned: "It is very dangerous to condone and prettify violence as this will push Hong Kong into an irrecoverable position."
Commenting on the protesters' demands, she said some could not be met. Chief Executive Carrie Lam Cheng Yuet-ngor has shelved the extradition bill and said it is "dead", but the protesters demand a "total withdrawal" of the bill. It is also against the spirit of rule of law to release and not to prosecute people arrested in violent clashes with the police, knowing that the rule of law is a core value and cornerstone of Hong Kong society.
As to their demand to revoke the "rioting" label on the demonstration on June 12, the DAB leader noticed that even US President Donald Trump has recently said that riots in Hong Kong have been carrying on for a long period of time.
"Commissioner of Police Stephen Lo Wai-chung has clarified that police did not treat the entire demonstration as a riot but some protesters' very violent acts were comparable to riots. We have seen many violent scenes, one of them being the violent attack on the Legislative Council building and the destruction of its facilities," she pointed out.
Asked if there is still a way under the law to help the parents of Poon Hiu-wing, the victim of the murder case that triggered the extradition law amendment bill, to seek justice, Lee revealed that her party is considering several options.
It's considering (applying for) an executive order that enables the rendition of an offender to a jurisdiction with which Hong Kong has no extradition agreement, she said.
In mid-July, DAB lawmaker Ann Chiang Lai-wan visited the alleged murderer Chan Tong-kai in prison to persuade him to surrender himself to the Taiwan authorities, but details of their conversation have not been disclosed.