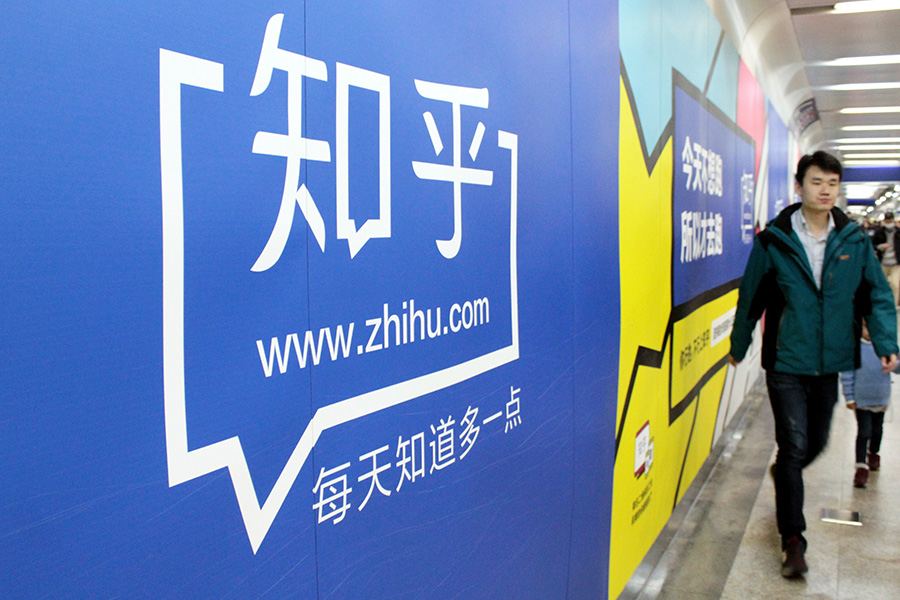 Chinese question-and-answer website Zhihu has completed a $434 million F-round of financing from investors that include short video platform outfit Kuaishou and internet search engine giant Baidu Inc to bankroll its expansion.
The Beijing-based company's funding is one of the largest investments seen in China's internet culture and entertainment segment over the past two years. It is also the first time that Kuaishou and Baidu have become strategic investors in Zhihu.
The investment will help Kuaishou and Baidu garner more content and fend off competition from Beijing Bytedance Technology Co Ltd. Bytedance owns news aggregator Jinri Toutiao and streaming platform Douyin, and has launched a new search engine In China.
Existing backers such as Tencent Holdings Ltd and Capital Today also invested in the new round.
Zhou Yuan, founder and CEO of Zhihu, said the company will work closely with Baidu and Kuaishou to jointly seek, spread and upgrade the format of high-quality content, adding the funding shows that Kuaishou has strong interest in the knowledge-sharing community.
The financing allows Baidu to add more than 100 million of Zhihu's Q&A posts to its mobile app, which is a combination search engine and news feed, and distribute the content to different users though the application of artificial intelligence technologies, a statement by Baidu said.
In an internal letter to employees, Zhou said the circumstances and stage of financing dictated that the platform could not tolerate any slack in its operations. He added Zhihu, Kuaishou and Baidu are all facing the same problem of an isolated island of information, and the cost of acquiring high-quality content is rising.
Founded in 2011, Zhihu, often regarded as China's version of Quora, finished its E-round last August, raising approximately $270 million at a valuation of $2.5 billion.
The company has started commercializing its services, and has focused on advertisements and paid content. In the first half of 2018, its revenue increased by 340 percent compared to the same period of the previous year.
Industry insiders said both Baidu and Kuaishou are engaged in a fierce battle with Bytedance, which is moving beyond its core businesses in news and video and into workplace messaging and music streaming, entering a sector currently dominated by Baidu. Kuaishou expects to expand its high-quality content and users through its investment in Zhihu.
Zhang Shule, an independent commentator in the IT and game industry, said the advantages of traditional search engine websites do not exist due to the popularity of mobile terminal devices.
"Baidu aims to make a breakthrough in the quality of content, which will determine whether the internet search giant will take a leading position in the news feed and search business at the terminal device level," Zhang said.
Kuaishou announced last month it will ramp up investments to provide data flows, of which the value could reach 10 billion yuan ($1.42 billion), for its 100,000 premium content creators in the next year.