Former CBA superstar takes coaching reins of Beijing Royal Fighters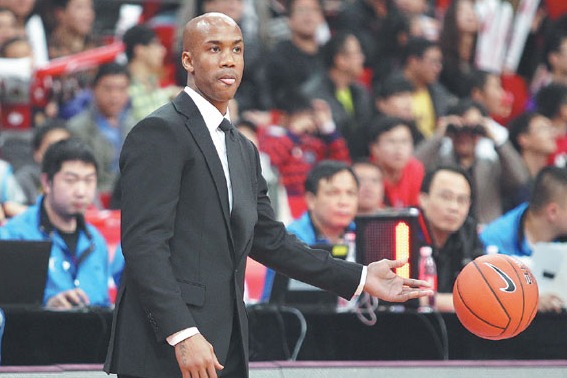 The return of three-time CBA champion Marbury following his retirement in February 2018 was made official on Monday when the Royal Fighters, the last team he played for, announced he has signed a three-year contract, starting from the 2019-20 season.
It will be the New York native's first full-time professional coaching job, and makes him the first foreigner in the CBA's 24-year history to take up a coaching role in the league after retiring as a player.
"Thank you for the opportunity. I will give everything I have on the sidelines, just like I gave everything inside the lines, "the 42-year-old said on his Weibo account on Monday. "The end is another start. I am back. Are you with me?"
Neither the team nor Marbury replied to China Daily's request for further comment on Tuesday. His inaugural media conference is scheduled for Friday in Beijing.
Marbury, who led the Beijing Ducks to three CBA championships from 2012-15, has never hidden his ambition to develop the second half of his career as a coach since solidifying his stardom in China during the Ducks' title run.
The two-time NBA All Star, who has a museum and a bronze statue in the Chinese capital to commemorate his impact on the court, said his ultimate goal is to one day coach China's national team.
"I made no secret that I wanted to coach basketball here in China and I wanted to be part of the growth and development here. This is definitely the beginning, "Marbury told China Daily in an earlier interview.
His first step might be even tougher than lifting the Ducks to the league title in his first season with the team (2011-12).
Hampered by a lack of leadership on and off the court, the Royal Fighters (formerly known as Beikong Fly Dragons) finished dead last in the 20-team CBA last season with an embarrassing 8-38 record.
The team finished a dismal 17th in 2017-18, even with Marbury and two other foreign players on its roster.
Owned by State-controlled Beijing Enterprises Group (BG), the Royal Fighters have pinned high hopes on Marbury's leadership to vault the team back into playoff contention.
"We've hit the bottom line and it's time to bounce back," said Tian Zhenqing, president of BG.
"Starting from this year we will strive for higher goals, looking to join the elite competitors in the league."
Although Marbury has no previous professional coaching experience, his celebrity appeal, work ethic and history of mentorship with younger teammates has earned him kudos from players and fans alike.
"He is a good mentor on and off the court," said national team guard Fang Shuo, Marbury's former teammate on the Ducks.
"He pays great attention to details while working with young guys, such as how low you should stay in perimeter defense and when to go for the basket and when to shoot. He never hesitates to correct bad moves."
Marbury got his first taste of barking instructions from the sideline during the basketball prelims at the 2013 National Games in Chongqing, when Beijing's then head coach Min Lulei invited him to be an assistant.
After being selected fourth overall by the Milwaukee Bucks at the 1996 NBA Draft, Marbury spent 13 years in the NBA, playing for five teams.
He moved to China during the 2009-10 season to join the CBA's Shanxi Brave Dragons, then spent a year with the Foshan Dralions (now Guangzhou Loong Lions) before launching a six-season stint with the Ducks, from 2011-17.
In 2015, in recognition of his contributions in helping promote the game and build a hoops culture in Beijing, Marbury became the first foreign player to receive a Chinese green card, granting him permanent residency.