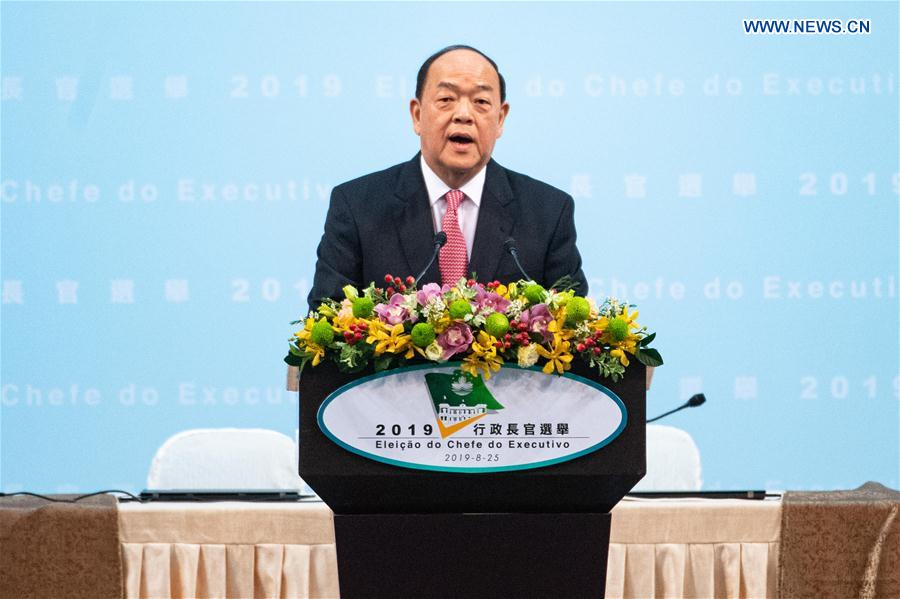 The Macao Special Administrative Region's chief executive-designate Ho Iat-seng vowed to strictly uphold the "one country, two systems" principle, emphasizing "one country" is the premise of "two systems".
Ho made the remarks during a recent exclusive interview with Radio the Greater Bay when he visited the China Media Group in Beijing. Radio is the nation's first radio station dedicated to residents of the Guangdong-Hong Kong-Macao Greater Bay Area.
During the interview, Ho pledged to strictly carry out the "one country, two systems" policy without any distortion or alteration.
To understand that, it is important to understand where our powers come from, Ho said.
Macao people's rights and the executive, legislative and judicial power of the Macao SAR have all been empowered by the city's Basic Law, which is mandated by the nation's constitution, Ho said.
Knowing that, Macao could fully apply the principle and avoid actions crossing the bottom line of national sovereignty, Ho said. 
He also noted that to ensure the successful practice of the "one country, two systems", it's necessary to make good use of the advantage of "two systems" by leveraging Macao's unique strengths.
The Greater Bay Area blueprint, which comprises the Macao and Hong Kong Special administrate regions and nine other cities from South China's Guangdong province, has positioned Macao as a world-class tourism and leisure center, a commerce and trade cooperation service platform between the country and Portuguese-speaking countries, and a base for exchange and cooperation where Chinese culture is the mainstream and diverse cultures coexist.
Ho pledged to well play the roles to live up to the nation's unswerving support. 
In the meantime, the CE-designate also vowed to seek new breakthroughs in achieving a more diversified economy by proactively engaging in the nation's overall development.
In the past two years, progress has been achieved in the exhibition, retail and financial industries. Yet there is still some distance to the appropriate level of diversified economic development, Ho said.
Noting Macao is striving to meet the goal, He also hopes breakthroughs can be seen amid further integration into the nation's development, especially closer collaboration with Bay Area cities.
To accelerate the process, Ho called for more of Macao's young people to seek development opportunities on the Chinese mainland, a much-vaster market. Whether to expand businesses, or simply get a first-hand experience of the nation's development, going to the mainland is a matter of course, said Ho.
Ho will be sworn into office on Dec 20 at a ceremony marking the 20th anniversary of Macao's return to China.
Ho was elected the fifth-term chief executive of the Macao SAR on Aug 25, garnering 392 votes from the 400-member Election Committee. On Sept 11, Premier Li Keqiang handed Ho a State Council decree to officially appoint him as the new CE-designate of Macao SAR.