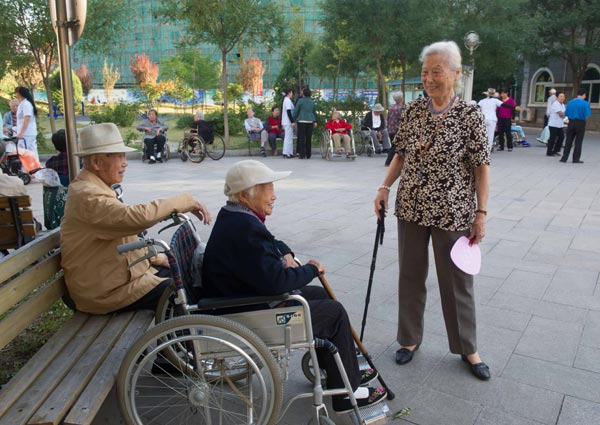 Chinese major life insurers are strengthening their efforts in tapping communities for seniors, eyeing the huge market opportunities brought by the fast-growing aging population.
J.K. Life Insurance Co on Thursday revealed its latest strategy to explore eldercare communities and plans to build five to 10 large-scale and full-featured healthcare centers in core cities in the following five years.
"The core concept of the strategy is to build a world-leading open platform for the health industry, to deepen the life insurance industry chain through a high-end customized healthcare service program, and establish a comprehensive insurance guarantee system covering health, medical services and eldercare," said Lu Changqing, chairman of J.K. Life Insurance.
J.K. Life Insurance has started two eldercare community projects in Beijing and Shanghai respectively, with more than 2,500 housing units, which will be held and operated for a long time by J.K. Life Insurance after their completion.
Taikang Insurance Group, a major life insurance company in China, is one of the first batch of life insurers to build eldercare communities by combining insurance products with healthcare services.
According to Chen Dongsheng, founder and CEO of Taikang Insurance Group, the company is committed to having seniors enjoy Taikang's medical and nursing services by reducing costs and improving the service capacity of more eldercare centers by providing professional and long-term support.
It also launched the Yicai Charity Program at the end of 2018,aiming to support public nursing homes and bring happier lives to more seniors.
According to Iimedia Research, China's eldercare industry market has reached 6.57 trillion yuan ($ 0.93 trillion) in 2018, and is expected to reach 10.29 trillion yuan in 2022. The problem of an aging population is becoming more and more prominent, which is an important reason for the rapid development of the eldercare industry.
Industry experts said that due to the upgrading of eldercare demands, eldercare communities and medical care institutions are gradually favored by the market and therefore insurance companies are taking investments in the eldercare industry as their main strategy and actively implementing it.
Ou Zhen contributed to this story.