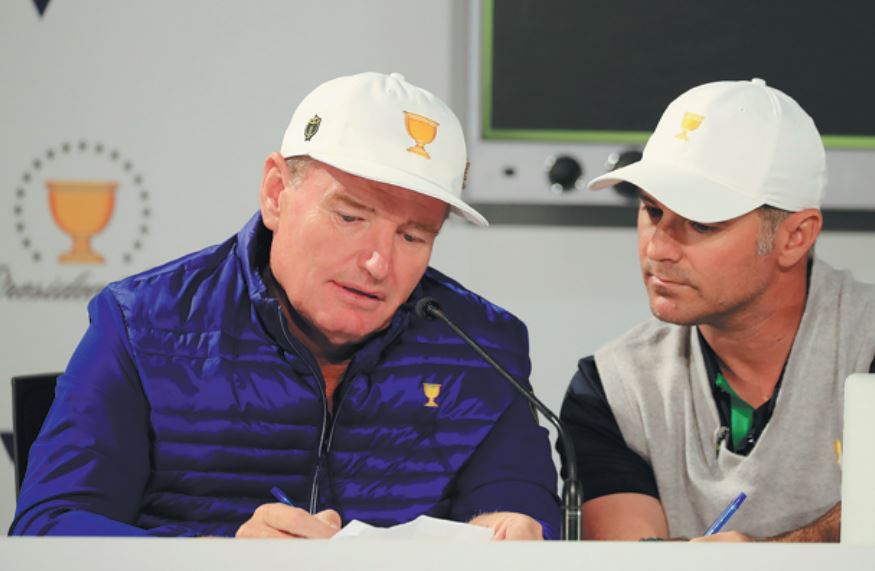 New International Team captain Trevor Immelman is looking forward to welcoming more Chinese players to his squad's ranks after Li Haotong's historic Presidents Cup debut last year.
Li become the first Chinese mainland golfer to play in the tournament last December when the Internationals, bolstered by a strong Asian contingent, were agonizingly thwarted by a dramatic final-day, Tiger Woods-inspired comeback from the United States.
Immelman's predecessor as captain, Ernie Els, introduced a new team culture, passion and logo to unify an International team made up of many different countries and regions. And despite the painful 16-14 loss, a new spirit was born which Immelman believes will see the Internationals carry the momentum to next year's edition at Quail Hollow in North Carolina.
"The Asian players have always been a very, very important part of our team makeup. They will continue to be so," said Immelman when he was unveiled as captain in April.
"You look at the history going back with (Shigeki) Maruyama and (Joe) Ozaki and so many other great Asian players, KJ (Choi) included, we've had a number of Asian players on our team (last year), and they performed brilliantly.
"It really was a close-knit team… I really was impressed. You just have to look at the young rookies, a man in his young 20s, Im Sung-jae.
"The way he performed, it was so much fun to see. And then when it mattered, he went out against these players and performed brilliantly, and then you look at his form subsequently and at The Honda Classic, just so, so impressive."
Asia was well represented in the last International Team with Li of the Chinese mainland, CT Pan of Chinese Taipei, Japanese star Hideki Matsuyama, South Korean duo An Byeong-hun (aka Ben An) and Im contributing 10 points in total.
Im was the standout Asian player, with the 22-year-old scoring 3.5 points from his five matches to leave Immelman mightily impressed. The captain is even tipping the South Korean to become one "of the greatest golfers in the world".
"Sung-jae has a unique personality trait where he is incredibly humble but has a lot of inner self-belief. For me, those have always been my favorite kinds of athletes to watch because you know they're going to have so much respect for the competition, the opponent, everything that is taking place around them. But when it comes down to when they really need to perform, they have the self-belief to back themselves and pull it off. I see that in Sung-jae so far in his young career."
Immelman, who played in the 2005 and 2007 editions of the Presidents Cup, knows the significance that Asia will bring to the Internationals' quest for redemption and glory. The Internationals' lone victory in the series dates back to 1998.
Having competed across Asia throughout his career, the 41-year-old is also keeping an eye out for new talents from further afield apart from those who compete regularly on the PGA Tour.
One such young star who has caught his attention is Thailand's 24-year-old Jazz Janewattananond, who won four times on the Asian Tour last season and is ranked 39th in the world.
"You look at a guy like Jazz, who's climbed his way into the top 50 and playing some beautiful golf in his own right. He and a number of other guys … you look at Li Haotong, CT Pan and Ben An, we can go down the list of great Asian players who really are starting to make their mark in the world of golf," said Immelman.
Other Asians who may well be on Immelman's radar include China's Zhang Xinjun, who is enjoying a second stint on the PGA Tour this season and lies 59th on the FedExCup points list, and Korean Kim Si-woo, who featured in the 2017 edition, which was the year he won The Players Championship.
"We had an amazing chemistry in our team room down in Australia," said Immelman. "And it translated on to the golf course, where our guys really did compete as one unit.
"I think what Ernie did for our team, giving us something to build off of, we sure are hoping that is going to be some kind of turning point for our team to where we can find a way to finally win it again."
The writer is the senior director of communications for the PGA Tour and is based in Kuala Lumpur.