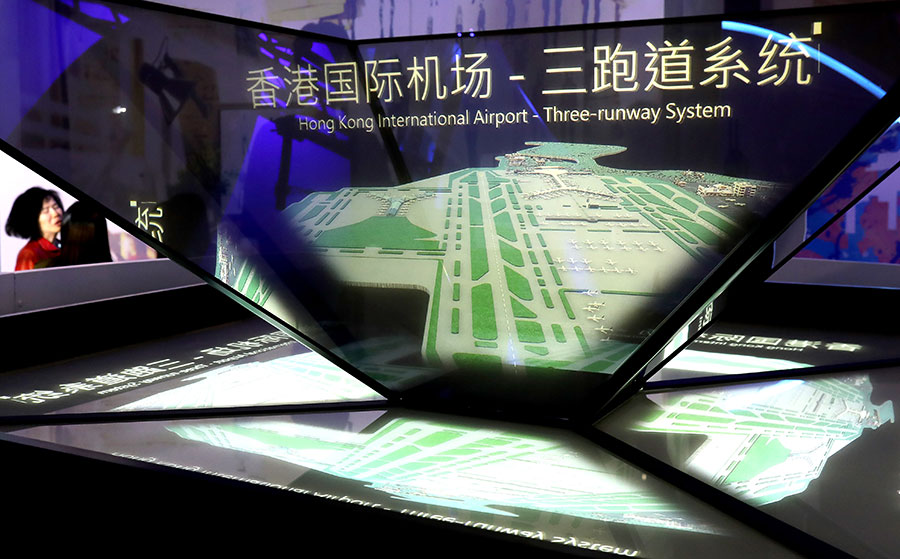 Around 200 businesses from Hong Kong are showcasing their products and services at the second China International Import Expo held in Shanghai, including industries of service trade, medical equipment, healthcare and agricultural products, according to the China International Import Expo Bureau.
"Hong Kong is also among the top 10 regions or countries in terms of exhibition area during the CIIE this year," said Sun Chenghai, deputy head of the CIIE bureau.
Peter KN Lam, chairman of the Hong Kong Trade Development Council, said that many Hong Kong products and services are popular on the Chinese mainland, and he hoped that the exhibitors from Hong Kong, which has long been Asia's international commerce and trade platform and service industry hub, can make full use of the CIIE platform to open up more business opportunities.
A report published at the World Economic Forum in October showed that Hong Kong was ranked third in terms of the city's global competitiveness, a rise from seventh place last year.
"Despite recent social unrest, the DNA of Hong Kong's economy remains unchanged, and Hong Kong, the largest overseas investor on the Chinese mainland, has kept and will always keep a close connection with business development on the Chinese mainland," said Jacky Chung, vice-chairman of the Shanghai branch of the Hong Kong Chamber of Commerce in China.
Hau Siu-woon, managing director of Golden Long Food Trading Ltd, one of the exhibitors from Hong Kong at the CIIE, said that business opportunities in the enormous Chinese mainland market are important for Hong Kong enterprises.
The import agent of snacks, beverages and seasonings said that it started business on the Chinese mainland only two years after its establishment in 1988.
"The market share of the Chinese mainland grew rapidly in past years. Shanghai was especially eye-catching although we only expanded our business to the city three years ago," Hau said.
Hau said he was impressed by President Xi Jinping's speech at the opening ceremony of the CIIE, as he welcomed businesses from all over the world to look for business collaboration and opportunities in the huge market of China.
"Our company has also responded to the Belt and Road Initiative in past years by further collaborating with food producers in France and Australia and introducing their products, including cookies and chocolates, to the Chinese mainland," he said.
Architecture firm Palmer& Turner, which designed more than half of the waterfront building complex on the Bund in Shanghai back in the 1920s and the '30s as well as several major shopping malls and office buildings in cities including Shanghai and Chongqing in recent years, said that it was its second time participating in the CIIE, and it appreciated such a meeting arranged for exhibitors across various fields during the expo, which provided the chance to meet new potential partners in different industries.