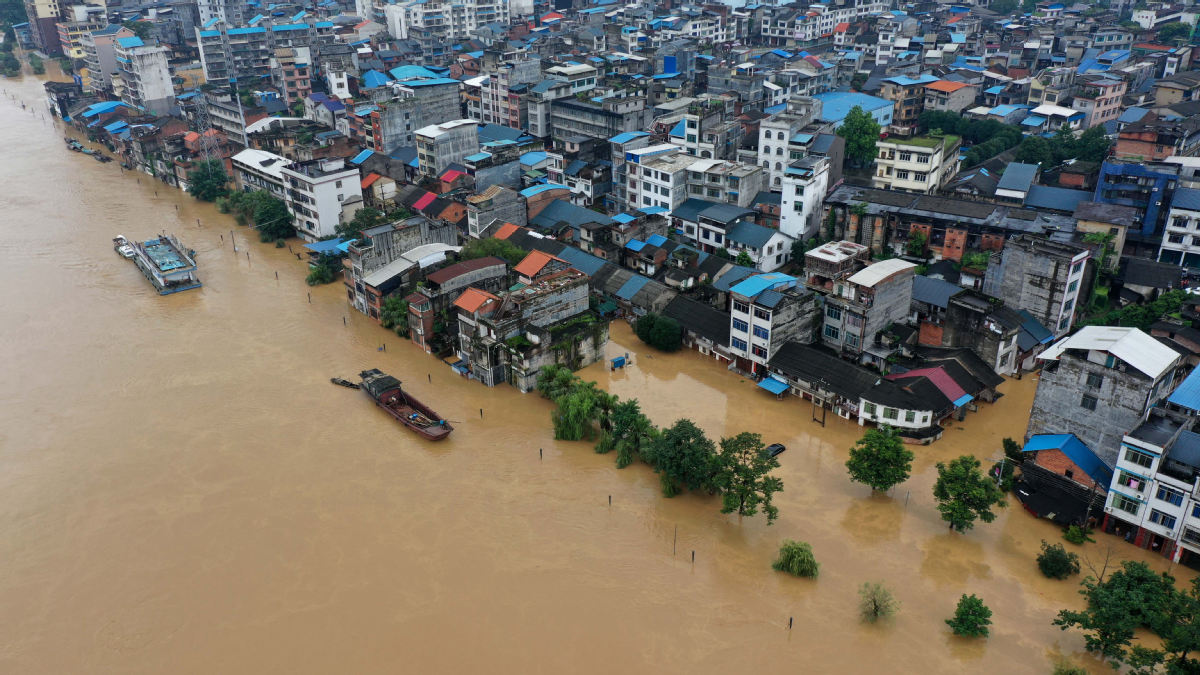 Heavy precipitation has raised experts' worries about small and midsize rivers
Stronger rainfall, a prolonged rainy season and uncertain weather conditions have merged to create a grim flood control situation in China this year, particularly along midsize and small rivers, according to experts.
As of Saturday, meteorological authorities had issued alerts for torrential rainfall every day for certain regions of China. Some observation stations along the Yangtze River witnessed the water levels exceeding those of 1998, when major floods killed more than 4,000 people in the country. Many are worried about another disastrous flooding year.
Risks loom, especially for the vulnerable midsize and small rivers where many dikes have not received adequate funding and maintenance for years, experts said.
Rainfall in China since June has far exceeded the average for the period, meteorological records show.
Between June 1 and July 7, the average precipitation along the Yangtze River Basin reached 347 millimeters, the second-highest amount since 1961. It even exceeded the 1998 level for the period by 15 millimeters, according to the National Meteorological Center.
Many areas have seen unprecedented daily precipitation this year. Thirty-one national meteorological monitoring stations in seven provincial regions, mostly in middle and lower reaches of the Yangtze, saw record high daily precipitation in July. Meteorological stations in 13 counties, 10 of which are in Jiangxi province, reported all-time high precipitation, according to the center.
In the most extreme circumstance, Xishui county, Hubei province, had 999 millimeters of precipitation from July 4 to 9, said Zhang Fanghua, chief forecaster at the center.
An extended Plum Rains season this year has also brought more rainfall. Plum Rains, often occurring in June and July, refer to the long period of continuous rainy or cloudy weather in the middle and lower reaches of the Yangtze River. The name is a reference to the time that plums ripen in the region.
This year's Plum Rains season began five to seven days earlier than normal in the southern region and along the Yangtze, according to the China Meteorological Administration.
"The season has come earlier, and it's expected to continue later this year," said Wang Yongguang, chief forecaster at the National Climate Center.
Instead of ending as usual in the later part of the first 10 days of July, the season may linger until the middle of the month, putting great pressure on flood control efforts along the Yangtze River, he said.