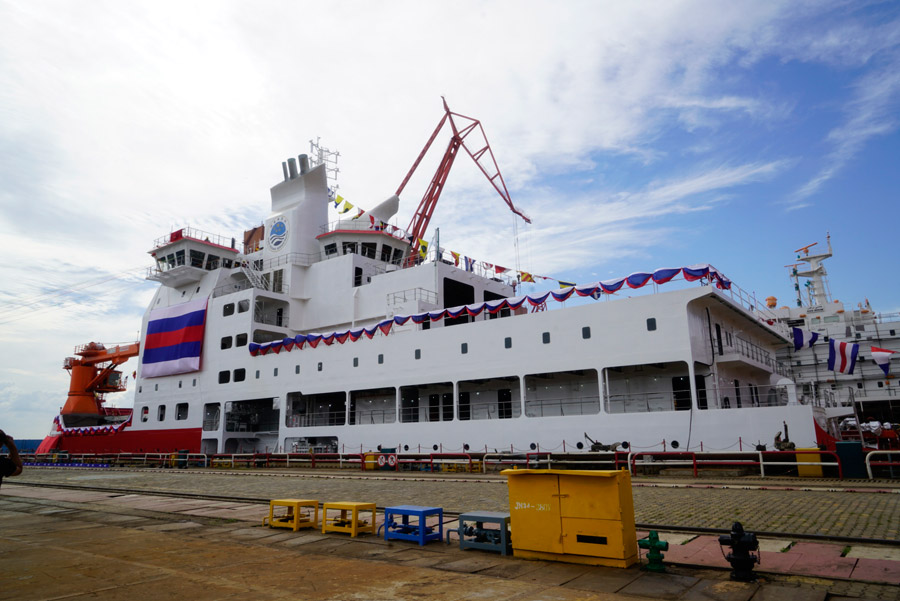 Xuelong 2, or Snow Dragon 2, China's fourth polar research vessel and first domestically built icebreaker, will be delivered on Thursday and is expected to join the existing Xuelong to conduct scientific research in polar areas this year, stdaily.com reported.
The construction of the vessel, designed in cooperation with Finland's Aker Arctic Technology, began in late 2016 at China State Shipbuilding Corp's Jiangnan Shipyard Group in Shanghai.
"Compared to the original Xuelong, the new vessel features powerful propellers on both the prow and rear, making it the world's first two-way icebreaker that can cut through ice while going forward or backward," said Zhao Yanping, captain of the Xuelong 2.
According to Zhao, the 122.5-meter-long and 22.3-meter-wide icebreaker has the ability to break 1.5 meters of ice and 0.2 meters of snow at a speed of 2 to 3 knots.
Xuelong 2 will be equipped to carry out research into polar ice coverage, atmospheric and environmental conditions, as well as conduct seafloor and biological resource surveys. It will greatly help to expand and extend China's polar explorations.