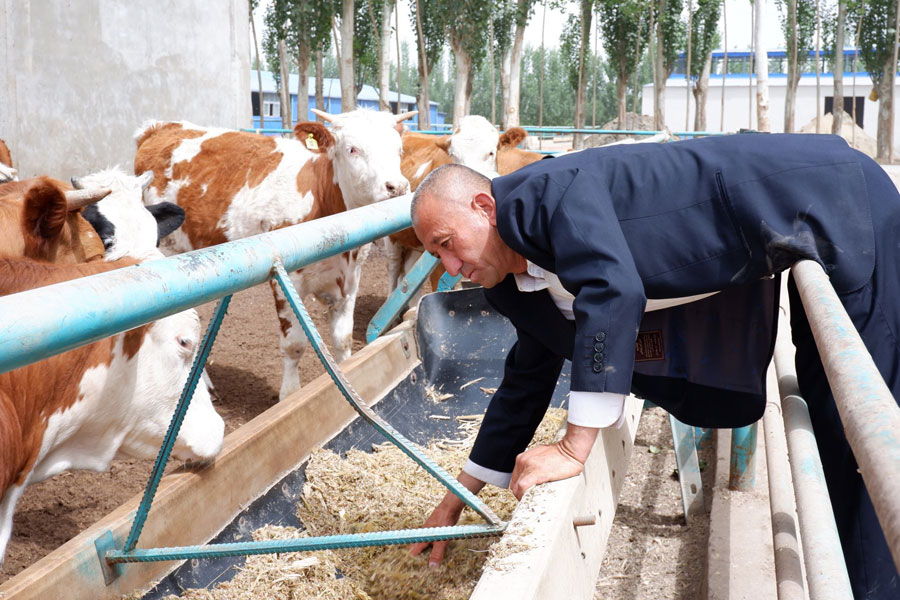 Three years ago, Abdurrahman Abdulla took a risk by putting 25,000 yuan ($3,500) – almost his entire life savings – into a brick and tile factory he started in partnership with six fellow villagers in Yecheng, a border county in the Xinjiang Uygur autonomous region.
The farmer made the decision after working for years as a casual laborer in similar factories that prospered in cities in northern Xinjiang, where rapid urbanization created a huge demand for construction materials.
Abdurrahman wanted to copy the success back home but was unsure if it would work in the more underdeveloped south, even though the government offered him land for next to nothing. To bring his partners onboard, he promised to make up for their losses if the factory failed. They agreed to invest 25,000 yuan between them.
The factory has thrived as the development of Kashgar has picked up speed, making him one of the wealthiest men in the village and creating dozens of jobs for villagers, who had little land and no way to lift themselves out of poverty.
He said his factory made a profit of 300,000 yuan last year, and he expects it to double this year.
"I recently helped my wife set up a clothing store nearby," he said, adding that he also used the money to renovate his house and build a garage for his new car.
Abdurrahman's factory is just one of many satellite factories and cooperatives that have sprung up over the last few years in Kashgar – which has low rates of land ownership and sandstorms that could rage all year – has made poverty a persistent problem.
With government encouragement, the factories have brought labor-intensive jobs to the doorsteps of farmers who had limited means of adding to their income other than growing cotton in tough conditions or working as casual laborers far from home.
Yecheng officials said every village now has at least one livestock farming cooperative and one-third has workshops that manufacture clothes and accessories.
Bash Tura, who works at Abdurrahman's factory, said the family used to depend on a meager profit from livestock as well as her husband's work as a carpenter and welder outside the county.
"I had to take care of my two children, one in primary school and the other preparing for college entrance exams, so I could not work far away from home with my husband," the 38-year-old said.
She said the factory – within walking distance of her home – provided the family with additional money that helped it shake off poverty in 2016.
To help farmers find jobs near their homes, the county authorities and governments elsewhere in Kashgar launched a campaign to encourage the establishment of kindergartens, nursing homes and services that allow them to entrust their livestock to bigger, more efficient operations. It has been welcomed by many farmers, who said it had helped liberate them from chores at home and find financially rewarding work.
The endeavors in Kashgar mean a lot as China works to eliminate absolute poverty by the end of 2020. Tens of millions of people have shaken off poverty since 2012, but southern Xinjiang and a few regions in Guizhou, Gansu and Sichuan provinces and the Tibet autonomous region remain deeply impoverished.
Abdurrahman said he was thankful to local officials for being ready to help in case his business ran into any difficulties. He said he plans to renovate his factory – a 700 square meter compound with a makeshift shack – so that the production could continue throughout the area's harsh winter.
"That would prolong the production period by at least three months and further drive up revenue," he said.