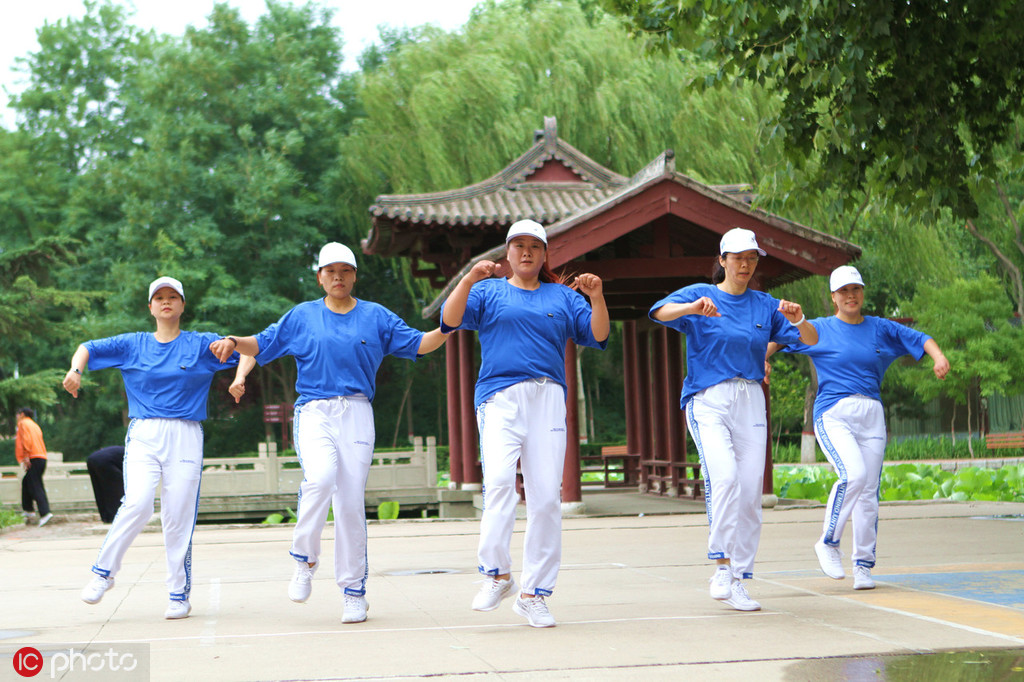 As vibrant music echoed across a public square in Beijing, a group of people stood in lines to dance, tapping and moving their feet on the ground with swift heel-and-toe movement.
The dance is called the Melbourne shuffle, or shuffle dance, which originated in Australia in the 1980s. With energetic steps, it is becoming a new form of "square dance", occupying China's urban spaces from parks to plazas. It is also a popular exercise for many elderly and middle aged people to lose the kilos.
Han Gong, a 59-year-old expert in repairing musical instruments, joined a Beijing shuffle dance team in 2017. He said dancing daily in the public spaces has helped him fend off high blood pressure and loneliness.
"My belly used to hang over my belt but now it's flat," Han said. Previously, he had tried various exercises including running, but few lasted over a week. "I prefer group activities, and then luckily I found shuffle dance," he said.
In the beginning, Han felt embarrassed when people gathered round to look at him, but he changed his mind after seeing an obese man dance with ease. "I asked myself, 'Why not give it a try?'" he said.
Han started to learn from an online video and practiced in front of a mirror. After two months of practicing hard, he no longer "danced like a clumsy duck", but successfully blended in with the group.
"My shirt became drenched in sweat within half an hour," Han said with beads of perspiration dripping down his forehead. "Shuffle dance has reminded me about the importance of exercise."
Lin Xiuhong, 40, joined the same dance team a year ago. "My feet tingle when it is near 6 pm, which means it is time to dance," she said.
Now, there are some 50 members from all walks of life in Han's team, mostly elderly and middle aged. They change their dance routine at least once a week and are keen on introducing new skills and styles from the internet.
On China's video-sharing platform Kuaishou, there are about 37,000 videos related to the Melbourne shuffle. Related videos on another short-video platform Douyin, also known as Tik Tok, have been viewed over 560 million times.
The dance form has even been introduced to a number of primary and middle schools in the provinces of Gansu, Shandong and Jilin. Some restaurants even encourage their staff to learn the dance to attract customers.
In April, a video showing a primary school principal leading more than 700 students in performing the exotic dance in North China's Shanxi province went viral on the internet.
"The shuffle dance has aroused their interest in exercise," principal Zhang Pengfei said.
A shuffle dance competition debuted in northeastern Jilin province with 22 participating teams in May. Another performance will be held in neighboring Liaoning province in July. "Chinese people now have more choices for exercise such as yoga, hiphop and shuffle dance, and are increasingly enjoying the benefits of exercising," Han said.
Xinhua