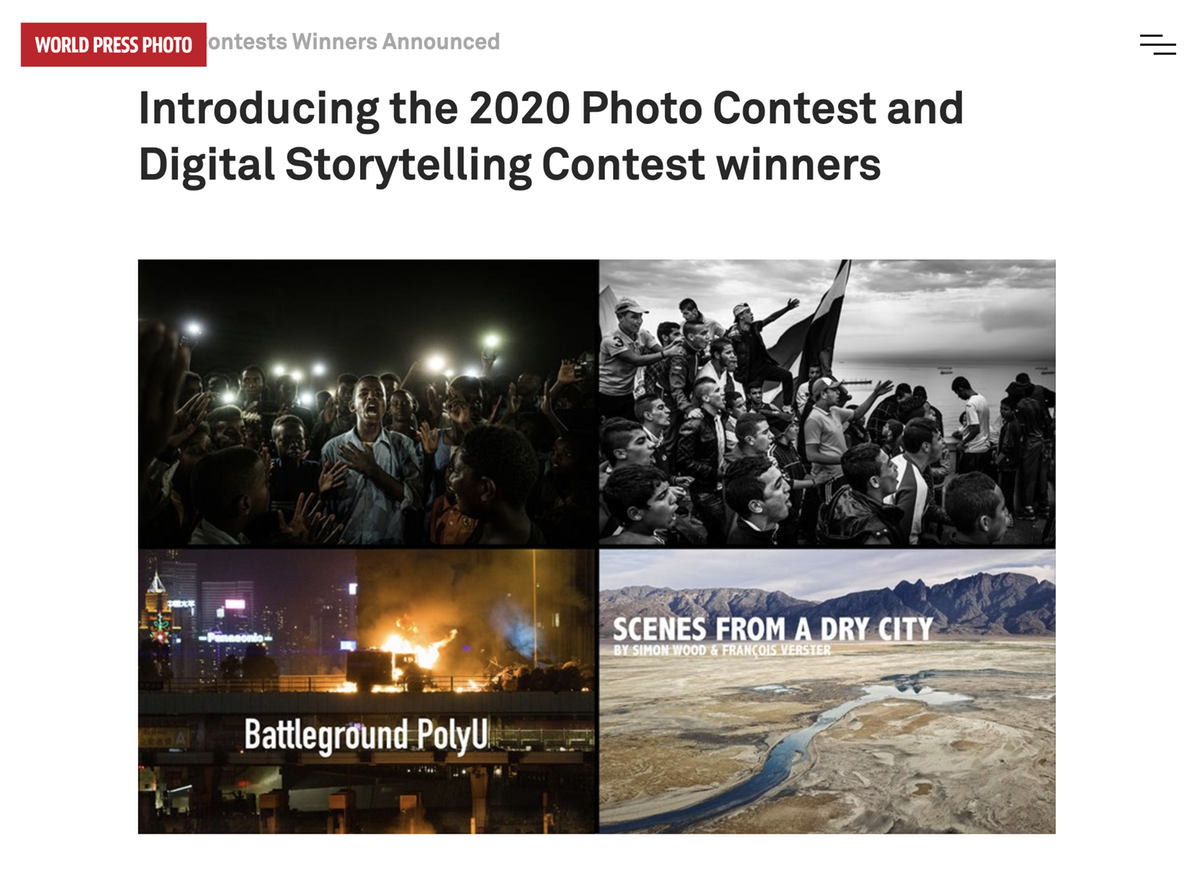 A China Daily journalist, who captured last year's occupation of The Hong Kong Polytechnic University by hard-core radicals, has been honored with two international awards at the World Press Photo Competition.
The video, "Battleground PolyU", shot and produced by veteran China Daily, multimedia journalist, DJ Clark, captured intense confrontations during a 5-day rampage surrounding the campus, including Hong Kong's major commercial center of Tsim Sha Tsui.
"From the moment Battleground PolyU starts, you're in the action, running through the streets of Hong Kong with the protesters," remarked Zoeann Murphy, who chaired the panel of the 2020 World Press Photo Digital Storytelling Contest.
"It's an extraordinary experience and a fantastic use of 360° video. Filming chaotic protests like this is challenging, but we see how the visual journalist stays steady while navigating the quickly changing dynamics," the visual journalist at The Washington Post continued.
"Battleground Poly U" was named, best interactive visual experience and outstanding immersive experience, at the 63rd World Press Photo Awards, announced in Amsterdam on April 16.
Beginning on November 15th of last year, Hong Kong was gripped by tension as hundreds of hardcore radicals invaded the Poly U campus, making it their stronghold. Police quickly sealed off the campus, trapping the violent radicals inside. As hold outs shot arrows and threw gasoline bombs at police, others radicals from outside the campus tried to break the police lines.
Murphy commented on Clark's winning video: "Photographs and traditional video can bring us moments from these intense scenes, but this 360° piece gives us so much more visual information about what was happening around those moments. Watching Battleground PolyU in a headset is exciting, but even scrolling around the scenes in an online browser is incredibly compelling."
The World Press Photo Competition, established in 1955, is regarded as the most prestigious international award for photojournalism in the world.
Since 2011, it has recognized productions with innovative and immersive visual storytelling in its Digital Storytelling Contest.
It is not the first time that China Daily Asia-Pacific adapted 360° video. In 2017, it launched the first-ever streaming media VR capture showing a 360° view of Asian historical sites.
Established in Hong Kong in 2016, the video team of the China Daily Asia-pacific has won a number of international awards, including the Society of Publishers in Asia Awards.
China Daily has also explored different innovative technologies for news and public information reporting, including the world's first interactive video interview, using artificial intelligence. In 2017, the team traveled to seven major Asian cities and launched a four-hour live video program covering morning rush hour traffic, across Asia. It was the world's first use of new media mobile multi-signal live broadcast.
Clark said he hoped the recording would make it an important historical record of the event putting viewers of future generations in the middle of the action.