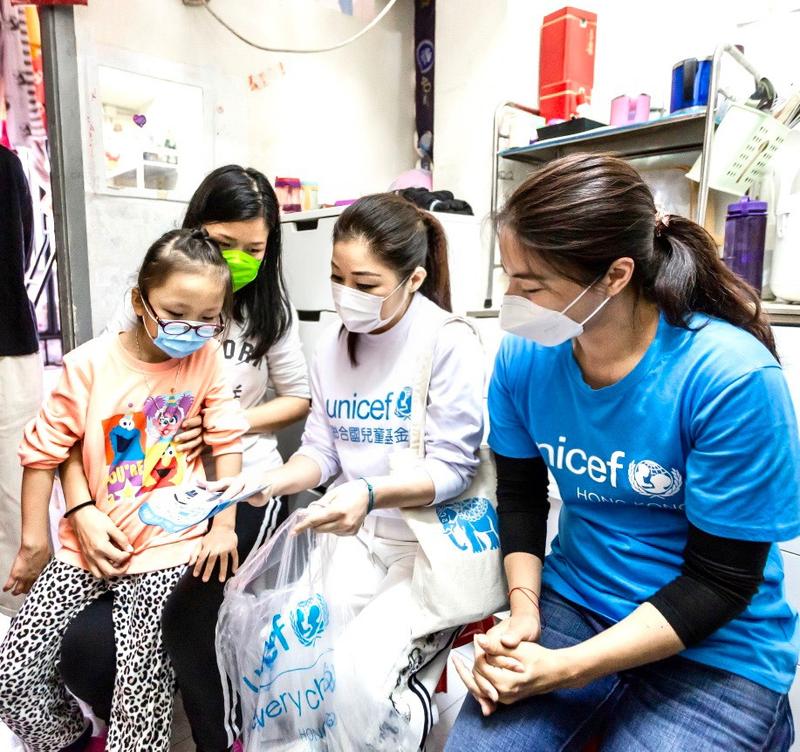 With health and social workers around the world anxious to help vulnerable middle-aged and elderly people, some social and political leaders in Hong Kong are also focusing on helping children from low-income families.
Poorer, grassroots families crammed into subdivided apartments are believed to be at greater risk and urgently need help during the coronavirus outbreak, said Judy Chen, chairwoman of the UNICEF Hong Kong. Chen made these comments in a recent interview with local Chinese-language newspaper Ta Kung Pao.
On March 13, UNICEF HK launched the biggest campaign yet in terms of helping children initiated by United Nations-related agencies in Hong Kong during the pandemic. This was to deliver specific remedies to help vulnerable children.
Under the "for every child, hygiene" initiative, the UN-affiliated charity distributed hygiene packages that include children's masks to 10,000 grassroots families. Hundreds of volunteers have also been trained to make home visits to disinfect toilets by spraying self-sanitizing coatings and to explain anti-coronavirus instructions.
According to official data, about 40,000 children aged 15 or below live in subdivided units in the city.
"Although Hong Kong enjoys a highly developed economy, those who live in subdivided flats are among the city's most vulnerable ones when facing the coronavirus pandemic. Once someone comes down with the virus, it will quickly spread among neighborhoods due to unsatisfying living conditions and poor hygiene," she said.
Chen, along with UNICEF HK Ambassador and Olympics champion Guo Jingjing, visited some grassroots families soon after the outbreak and handed out anti-coronavirus items.
It is understood that recovery from COVID-19 largely depends on a person having a robust immune system. But Chen is worried that children from low-income families are not likely to eat healthy food and therefore may not have good immune systems.
Some low-income families only earn an average salary of less than HK$10,000 ($1,290), at least half of which goes toward paying rent. Even with HK$5,000 in government aid, they can barely make ends meet, Chen said.
Meanwhile, lacking resources to prepare and protect against the COVID-19, many of these individuals face a higher risk of contracting — and subsequently spreading — the virus.
Some low-income people cannot afford a face mask, which costs only HK$3, Chen said. At one household she visited, a face mask was being used for as long as a week.
A recent survey, jointly conducted by Oxfam Hong Kong, Agape Community Care Centre of Kwun Tong Methodist Social Service, the Concerning Comprehensive Social Security Assistance union, and the People Service Centre, also showed low-income households suffered greatly as the number of unemployed people from low-income families surged 400 percent, from 32 to 161, in the past two months.
The campaign has sourced more than 1.35 million anti-coronavirus items, including face masks, hand sanitizers and other cleaning supplies so far, which will be distributed through 30 Circle K convenience stores across the city. Eligible families can pick up an anti-pandemic relief package by scanning QR codes. They can also make appointments for home disinfection services by calling UNICEF HK.
The project has also won support from various sectors, including many government officials and the business community.
Chen said Deputy Director of the Liaison Office of the Central People's Government in the Hong Kong Special Administrative Region Chen Dong and Chief Executive Carrie Lam Cheng Yuet-ngor, along with Secretary for Food and Health Sophia Chan Siu-chee, have all backed the initiative.
Through this campaign, Chen said, she found comfort in the fact that many are willing to help those in need to battle such a "ruthless" epidemic.
Chen noted that more programs, including ones focusing on children's mental health, will be launched – as the organization is considering a second phase of assistance.