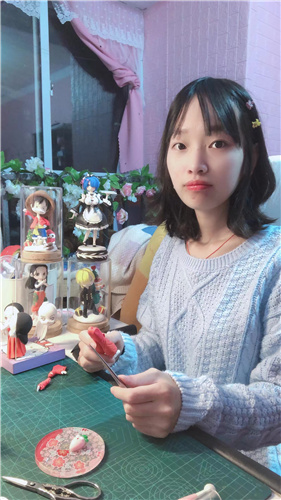 There are different types of courage, different types of heroes. But the ability to inspire others is a hallmark of those earning the title of hero. Xiang Chenxi, 27, is one such person. Using a ventilator, Xiang sits or stands in front of her workbench at home in Wuxi, Jiangsu province, livestreaming her clay doll-making classes every day. This may seem an everyday occurrence, but it is actually a hero in action.
The dolls help her not only to make a living, but also to face life positively. She was diagnosed with progressive muscular dystrophy at the age of 8 when she frequently stumbled while walking. Her muscles, including her heart and the part of muscles that control breathing, will get weaker and weaker. There is no cure.
In 2018, she lost the ability to walk.
Last year, she had difficulty standing and in February, due to a lung infection, her disease progressed rapidly and she had to start using a ventilator for at least 15 hours a day to breathe.
Even in the darkest days, Xiang didn't give up her passion for dolls.
"Although most parts of my body cannot move, and I have to use a ventilator, the flexibility of my hands is a blessing in disguise," Xiang says.
Her doll-making video has gone viral, and has been viewed about 60 million times on Sina Weibo as of Monday. Many Weibo users commented that life is short, but her spirit makes it splendid.
"For me, every day after diagnosis is the healthiest day in the rest of my life," Xiang says.
What most of us consider mundane tasks, like lifting a cup, are hard for her. Consequently, making a doll can take her months.
But Xiang, showing a determination that is truly astounding, considers that she is "lucky" to be able to do what she loves.
What's more, she wants to bring luck to others. Last year, she began teaching doll-making courses online. It costs about 300 yuan ($43) to master the skill. So far, more than 260 students have enrolled for her course.
For students with physical disadvantages, the course is free. More than 30 such people have taken the course so far.
Despite her physical limitations, Xiang has kept trying to find meaning in her daily life and to be grateful for what she can do.