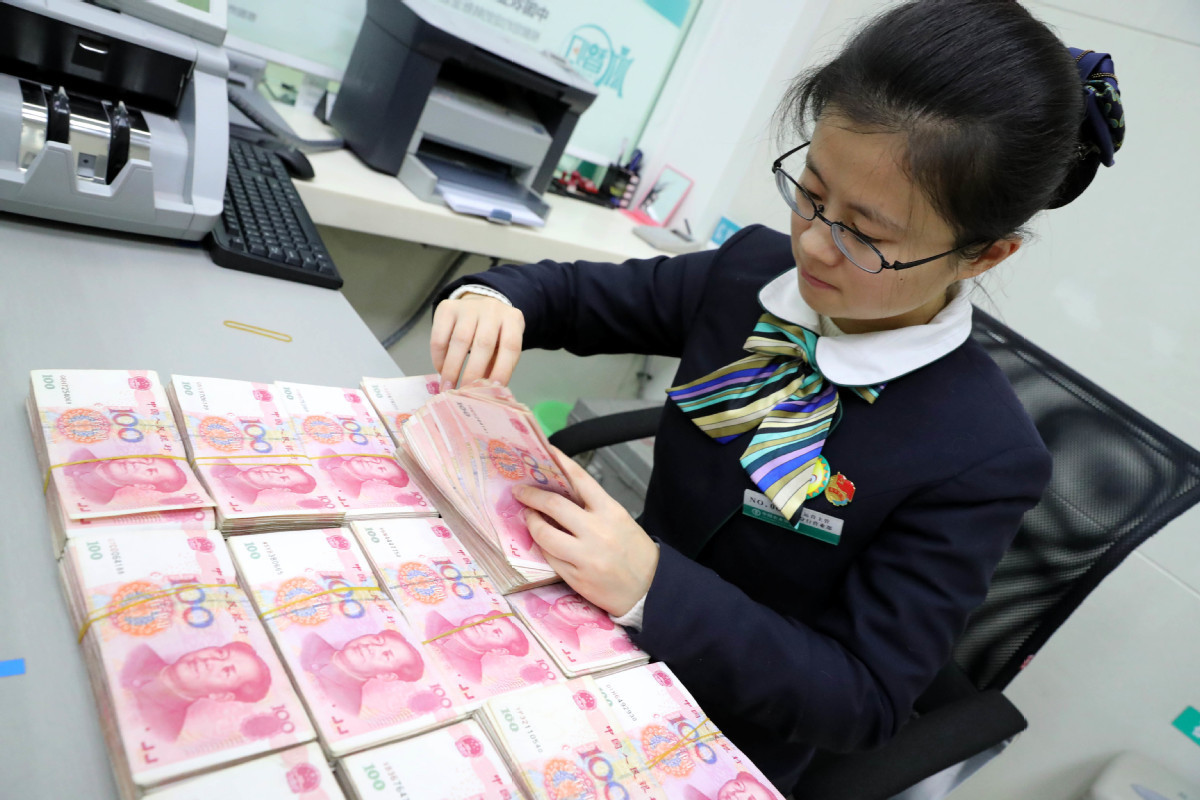 The asset quality of Chinese commercial banks remained stable as their nonperforming loan ratio rose by just 1 basis point from the previous quarter to 1.81 percent at the end of the second quarter of the year.
During the same period, the amount of nonperforming loans of commercial banks increased 3.6 percent to 2.24 trillion yuan ($317 billion).
Outstanding loans classified as special-mention assets, which refer to potentially weak loans presenting an unwarranted credit risk, went up by only 0.8 percent to 3.63 trillion yuan, said data released by the China Banking and Insurance Regulatory Commission (CBIRC) on Monday.
Ma Kunpeng, an analyst at SWS Research Co Ltd, wrote in a report that banks have optimized the industry structure through the allocation of credit, reduced corporate loans granted to industries with excess capacity, increased low-risk personal loans, recognized bad loans under tougher standards, and actively disposed of those bad loans.
"In spite of an increase in macroeconomic uncertainty, we expect that the NPL ratio and the coverage ratio of allowances for loan impairment losses to NPLs will maintain a steady and optimistic momentum, whereas the outstanding amount of nonperforming loans will increase slightly," Ma said in the report.
The analyst added: "It is estimated that the NPL ratio of listed banks will drop 1 basis point from the previous quarter to 1.51 percent at the end of the second quarter."
Several listed banks which announced results or preliminary financial data for the first half of 2019 reported stabilization and even improvements in asset quality.
China Merchants Bank Co Ltd, a joint-stock commercial lender whose total assets reached 7.19 trillion yuan, posted a decline in its NPL ratio by 12 basis points from the end of last year to 1.24 percent at the end of June.
The main reason for the development was a fall in the NPL ratio of the corporate sector of China Merchants Bank, which stemmed from the good asset quality of its strategic clients and the adoption of financial technologies to improve the bank's capability in risk warning and management, CSC Financial Co Ltd analyst Yang Rong said in a research report.
Ping An Bank Co Ltd, another commercial lender headquartered in Shenzhen, Guangdong province, also saw its NPL ratio fall 7 basis points from the end of last year to 1.68 percent at the end of June.
Its balance of loans past due by 90 days or more declined by 1.19 billion yuan to 32.8 billion yuan, and its balance of special-mention loans dropped by 2.98 billion yuan to 51.58 billion yuan.
The profit growth of China's commercial banks remained steady. Net profits hit 1.13 trillion yuan in the first half of 2019, up 6.5 percent year-on-year, the CBIRC said.
For China Merchants Bank, the net profit attributable to shareholders climbed 13.08 percent year-on-year to 50.61 billion yuan during the first six months of this year. Over the same period, Ping An Bank reported a 15.2 percent growth in net profit to 15.4 billion yuan.
Ma at SWS Research said in the report he expects the net profit attributable to equity holders of the parent company of listed banks will grow by 6.3 percent year-on-year in the first half and the operating income will rise 14.8 percent.
The trend of asset quality improvement and net interest margin stabilization will continue in the second half of this year but the differentiation among banks will intensify. For small – and medium-sized banks, those that have strong asset management capability and conform to requirements will gain long-term advantages in terms of fundamentals and valuation, he added.