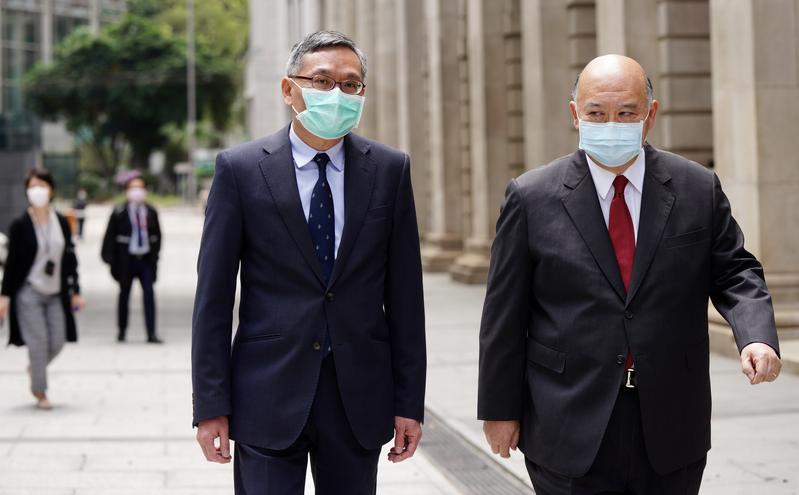 Hong Kong Chief Executive Carrie Lam Cheng Yuet-ngor on Tuesday announced the appointment of Andrew Cheung Kui-nung as the new chief justice of the Court of Final Appeal.
Cheung's appointment received backing from local political leaders and prominent members of the legal profession. They expressed confidence in Cheung, a highly qualified person, to safeguard the rule of law in Hong Kong.
Speaking to reporters ahead of a weekly Executive Council meeting, Lam said the decision, based on the recommendation of the Judicial Officers Recommendation Commission, will also need the endorsement of the Legislative Council — currently in deadlock over the selecting of a House Committee chairman.
Lam urged lawmakers to set aside their differences and select a chairman soon so the appointment can proceed.
Cheung said he was honored to be nominated and was fully aware of the community's high expectations of the judiciary. Cheung said that if he is appointed, he will do his utmost to ensure that the rule of law and judicial independence are maintained, and that the rights and freedoms of the individual are safeguarded.
Cheung will succeed Geoffrey Ma Tao-li and become the third chief justice of the Court of Final Appeal since Hong Kong returned to the motherland in 1997. His term starts on Jan 11.
Ma said he was confident that Cheung will make an outstanding chief justice and continue to uphold the rule of law and protect judicial independence — if his appointment is ratified by the legislature.
He expected the judiciary will continue to safeguard the rights and freedoms of the individual under Cheung's leadership.
The Law Society of Hong Kong also welcomed the decision, saying in a statement that Cheung is highly qualified for the position, given his extensive judicial and administrative experience. He also has an impressive reputation within and outside the judiciary, the society added.
The Law Society said it is of cardinal importance to Hong Kong under the "one country, two systems" principle that the chief justice of the Court of Final Appeal leads an independent judiciary and upholds the rule of law.
Cheung has served as a permanent judge of the Court of Final Appeal of Hong Kong since Oct 25, 2018. He joined the judiciary as a district judge in June 2001.
Also backing the government's decision was lawmaker Holden Chow Ho-ding, who said he expects Cheung to take measures to deal with the backlog of cases since June that are related to the "Extradition Bill Incident", such as extending court hours, hiring additional manpower, and establishing 24-hour courts.
However, the Legislative Council has been facing an impasse for six months over a delay in electing a House Committee chairman.
Chow said it was irresponsible for the opposition camp to politicize this issue and hold up the House Committee for political purposes.
The public image of Hong Kong's judicial system will be tarnished if stonewalling in the legislature delays Cheung's appointment, added Chow.