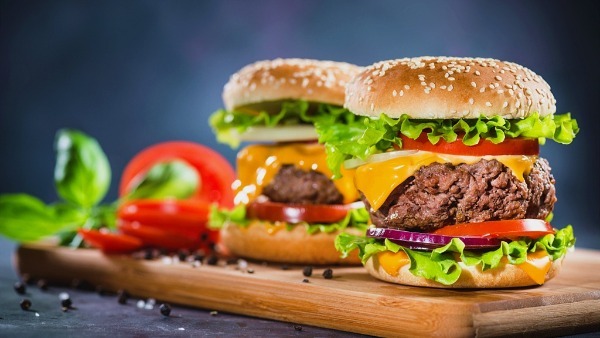 Beyond Meat's patties hit the freezers in Shanghai supermarkets last week as the US maker of plant-based beef substitutes makes further inroads into the world's largest market for meat.
The new tie-up brings Beyond Meat and Chinese tech giant Alibaba together to sell the Beyond Burger in 50 Hema supermarkets in Shanghai starting this week, with further expansion to Beijing and Hangzhou, in East China, in September.
The stores are a new concept by Alibaba integrating online and offline experiences. Shoppers can do their grocery runs in brick-and-mortar stores using only mobile payment at the self-checkout machine, or place their orders on the supermarket's app.
The US startup has not wasted any time since it entered the Chinese mainland in late April. It premiered its beef substitutes to much fanfare through a partnership with coffee chain Starbucks and followed that with a collaboration with Yum China in June. Thanks to the team-up, the company rolled out its meatless meat at selected KFC, Pizza Hut and Taco Bell outlets in a number of Chinese cities for a limited time. The same month, it inked an agreement with imported food distributor Sinodis, giving its products access to a network of 4,500 restaurant chains, hotels, and caterers.
But Beyond Meat is looking beyond restaurant menus in the Chinese mainland as it tries to increase its reach and find new outlets for its products in the country.
China is the most voracious meat eater in the world, accounting for a third of the global consumption of meat. Beyond Meat and its ilk see big opportunities in convincing Chinese omnivores to ditch, or at the very least cut down on, animal flesh and embrace plant-based alternatives. The competition is intensifying as homegrown startups join the fray with hyper-realistic fake meat offerings and foreign players jump through hoops to get a foothold in the country.
Recent months have seen a slew of product launches from Chinese companies like Hong Kong-based Omnipork's vegan spam and pork tenderloin made from pea and soy protein by Beijing-headquartered Zhenmeat. International protein companies are also getting in on the action. KFC this year trialed chickenless chicken nuggets by US agribusiness Cargill, and Nestle has announced a plan to build a production facility for plant-based meat in Tianjin, near the Chinese capital. Meanwhile, Impossible Foods is working on bringing its "bleeding" burgers to the Chinese mainland after a taste test at a Shanghai event last year became the talk of the town with intense media coverage and long queues.
Much like in the US, plant-based makers are likely to face off in Chinese supermarket aisles.
"We know that retail will be a critical part of our success in China, and we're pleased to mark this early milestone within a few months of our market entry," said CEO Ethan Brown.
The company's faux beef patties will enter Chinese stores unrivaled, though if the past weeks are of any indication, that might not last long.