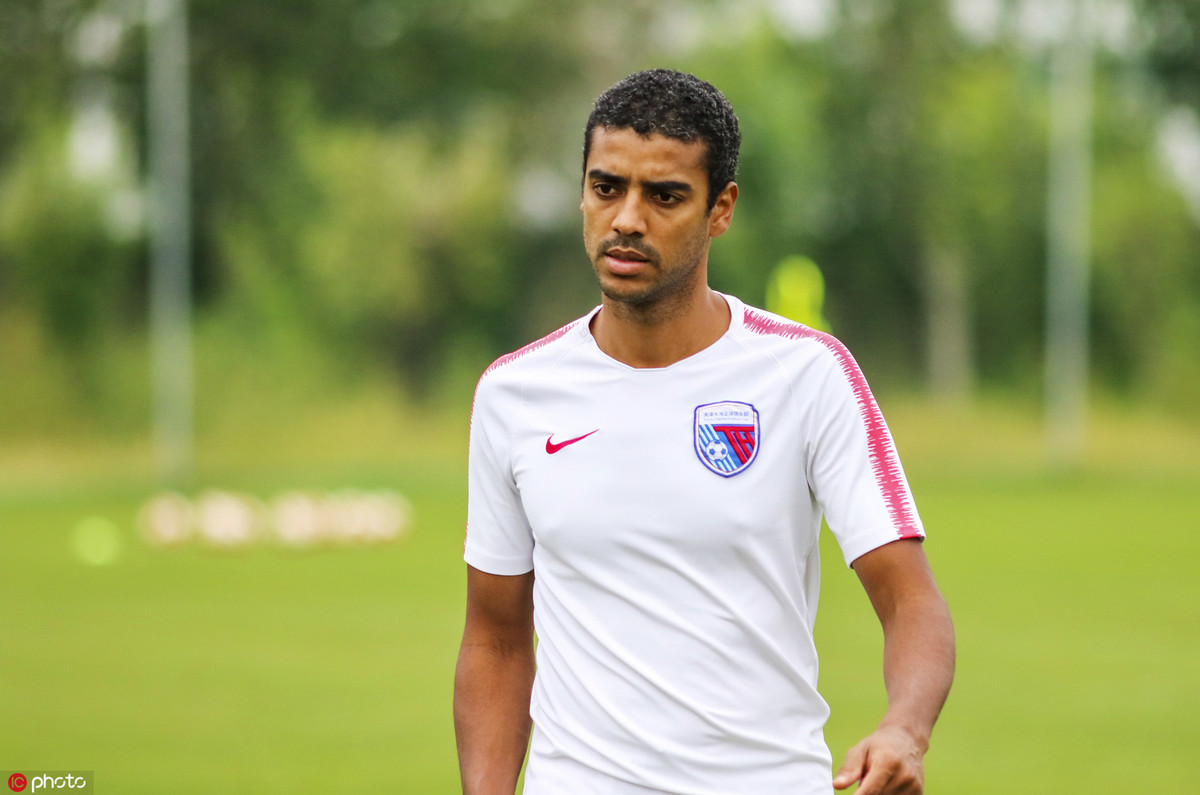 Brazilian forward, who says he's 'already Chinese', anxious to don red jersey
With the success of Ai Kesen (aka Elkeson) and Li Ke (aka Nico Yennaris) on Team China, naturalization is likely to become a key word in the nation's ongoing soccer development.
According to sports.163.com, 30-year-old Brazilian forward Alan (Carvalho) is reportedly poised to become China's next naturalized star after giving up his Brazilian nationality and telling his teammates he's "already Chinese."
In early 2015, Chinese Super League side Guangzhou Evergrande signed Alan from Red Bull Salzburg on a four-year contract for a transfer fee of $12 million.
Speculation about his naturalization started months ago when he told media he would be willing to don China's red jersey.
"If I can have the chance (of becoming a naturalized player), I'd be very grateful," Alan told Chinese media in May.
"My family loves China very much and I also love this country. We've been here for a long time and what China has offered me has been great. I'm very glad to continue to live in China and play in China."
After four seasons with the Evergrande dynasty that won seven CSL titles from 2011-17, Alan was loaned to fellow first-tier club Tianjin Tianhai last February. Next year he will qualify to play for Team China under FIFA's five-year residency rule.
Fan reaction to Alan's naturalization has been quite different from the debates sparked by English-born Li Ke and Hou Yongyong (aka John Hou Saeter), a Norwegian of Chinese descent, who were China's first two naturalized players.
Many fans expressed concern that naturalized players might not be a good fit, but there's been a more open attitude towards Alan.
Brazil-born Ai Kesen scored two goals last week when Team China blanked Maldives 5-0 in the first qualifier for the 2022 FIFA World Cup in Qatar. In June, Li Ke played a significant role in China's 2-0 friendly win over the Philippines.
The arrival of naturalized players has been welcomed by Team China coach Marcello Lippi.
"In many of the matches we played before, we were up against teams that had four or five naturalized players in their lineups," Lippi said earlier this month.
"As long as the foreign players are good enough and can meet the naturalization regulations, they all could be on our list.
"Although they were not born in China, many of them have played and trained many years here. They know our training philosophy and have close connections with our coaches.
"I believe once they wear the red jersey, they will try their best to fight for the country."
Hiddink fired
Meanwhile, Dutchman Guus Hiddink has been dismissed as coach of China's Olympic soccer team after a disappointing year in charge.
In a statement on Thursday, the Chinese Football Association said Hao Wei, former head coach of the women's national team, will take over for Hiddink.
The CFA also said it is setting up a four-member group to take charge of the Olympic qualifiers.
The statement said the new leadership was "in view of the previous inadequate preparations for the Chinese U-22 national men's team" and was "in order to further strengthen team preparations and improve team building and management level."
The 72-year-old Hiddink was appointed as head of the Olympic team last September, and after a series of lackluster performances the squad lost 2-0 to Vietnam in a friendly at home earlier this month.
State news agency Xinhua said on Thursday night that "despite his illustrious coaching career, the Dutch veteran is far from a success in China with only four wins out of the twelve matches."
China's under-21s are expected to make up the bulk of the squad at the Tokyo Olympics, where the age limit is 23.
Agence France-Presse contributed to this story