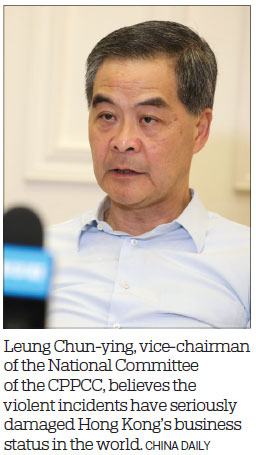 Former CE calls for swift punishment of rioters to protect city's image, business status
Former chief executive Leung Chun-ying said on Wednesday that radical protesters' violence against a tourist and a journalist at Hong Kong International Airport was "extremely serious" as it could damage the city's international status.
The vice-chairman of the National Committee of the Chinese People's Political Consultative Conference – the country's top political advisory body – said he hopes the weight of the law could stop the "totally senseless and brutal acts".
Leung made the remarks after anti-government radical protesters held and assaulted a tourist and a journalist from the Chinese mainland for hours on Tuesday night.
Radicals also obstructed ambulance officers and the police from rescuing the two men, leading to violent clashes with riot police at the airport.
In a group interview at the Office of Former Chief Executives, Leung said the incident was "extremely serious".
Leung noted that the violent incidents, together with protesters' obstruction that partially paralyzed the airport for two days, have seriously damaged Hong Kong's image, reputation, and business status in the world.
"It will surely have a negative impact – not just in the short term, but in the medium term – on Hong Kong's status as an international tourism and conference hub," Leung warned.
Those offenders must be brought to justice swiftly. "The full weight of the law of Hong Kong must bear upon them. So that what happened at the airport in the past two days will not repeat itself."
Criminal acts at airports which cause or are likely to cause serious injuries or death to others are punishable by life imprisonment under the Aviation Security Ordinance.
The former leader of Hong Kong said he believes most people in the city are against such illegal acts.
"It is also important for the silent majority to speak up, so we have enough weight of public opinion to stop these people from repeating these totally senseless and brutal activities," Leung stressed.
He also hoped the public could provide information to the police for identifying the offenders.
Hong Kong International Airport is one of the world's busiest airports, which handles about 73 million travelers each year.
Stressing the airport's importance to the city's tourism, trading and logistics industry, Leung called on players in these industries, especially owners of small- and medium-sized enterprises, to speak out against violence and obstruction at the airport, as their businesses could be heavily affected.
Leung pointed out that radicals are not representatives of the majority in Hong Kong, as most people are peaceful and rational.
He hoped the violence at the airport won't affect the benign interaction between people in Hong Kong and the mainland.